Posted by homebrewer in
Family
,
Homebrewing
.
Monday, January 16th, 2006 at 8:56 pm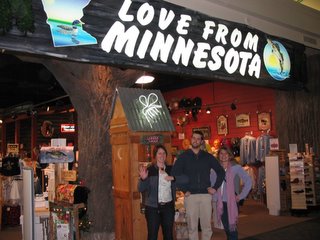 LOVE FROM THE MALL OF AMERICA
I am very excited to have this opportunity for a guest entry on Duo Team's awesome blog!! This is your friend the Pinolera, I have left my tropical climate to come and spend the winter in the extreme cold of the midwest in Minneapolis! In addition to all the winter fun (broom ball, ice skating, snowball fights, donuts in the parking lot, hot chocolate, coffee and baileys, freshly fallen snow, watching nate and karen shovel the side walk, and catching snow flakes on my tongue) we have also enjoyed lots of indoor activities. We visited the mall of america and camp snoopy. We rode 2 indoor world famous roller coasters and the ghost blasters ride (ratings as follows – peter: 683, karen: 600, nate: 572, sierra 500 . . . i had to go easy on them since i am a guest!). And last but not least, i sampled some more of what the midwest is famous for . . . ROUND FRIED THINGS!!!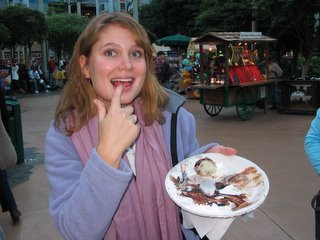 NO YOU CANT HAVE THE LAST DEEP FRIED OREO!!
Yes, in preparation for the (in)famous MN state fair i tried a plate of deep fried oreos. I loved eating it at the time, but later i had a stomach ache. So much for my new year's resolution to lose 15 pounds!! We have also visited pretty much every brew pub in the twincities and i have tried the most delicious selection of beers ever! There has been a pretty serious shuffle puck evening as well as some air hockey and bowling. Highlights of the game night for me include: accepting a bet to go hit on a group of mexicans, resulting in 10 minute boyfriend enrique and becoming famous for my final puck fury in shuffle board! I haven't even mentioned my guest suite (AWESOME!!!) or the day i joined the 21st century (got new credit card, bought a cellphone, laptop computer, scanner/color printer, maxed out new credit card . . .yes, all in one day!) but i think it is time to get to one of my most valuable experiences here at Duo Team Headquaters.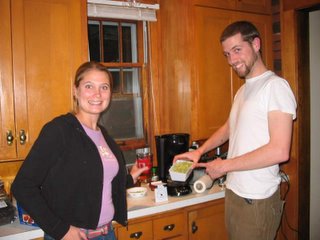 DRINKING BEER AND MAKING BEER AT THE SAME TIME!!!
Yes, we are brewing a Loft clone, here we are measuring out the hops. I have some experience in amateur wine making, but this was taking it to a whole new level. Stay tuned for the "Summer?*&%?#@ Winter?"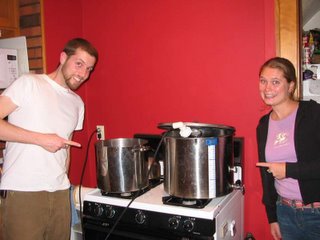 YEP!! IT'S FREAKING "SUMMER?*&%$#!@WINTER?"
This is a pretty powerful schroeder team combo, brewing up our own killer beer! Watch out usa!! I am already sad to leave, i really like the town and have had nothing but a complete and total BLAST here! Que Viva Minneapolis!!
Similar Posts:
4 Responses to "Pinolera reporting from Duo Team HQ"