Posted by Karen in
Day to Day
.
Thursday, December 15th, 2005 at 2:24 pm
The last couple of days have turned Minneapolis into a winter wonderland! While most people are cursing the snow, I've been cheering! I love seeing it, walking in it, even driving in it. More snow, more, more, more.
When I lived in Colorado, I could drive up into the mountains and count on there being enough snow to snowshoe any time I wanted. But here, you've gotta take advantage of it when it snows right away, because if it doesn't melt, it will most likely turn heavy and sloppy or crusty and weird or just generally less cool. So I decided that, in spite of looming finals, because I finished my GIS project a whole day and a half early (that's right folks, I said EARLY – it's the new, improved, Karen 2005, look out!), I had earned some sn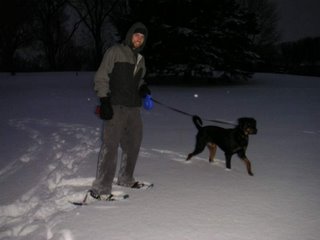 owshoeing. Besides, the dog had to get walked anyway, right? So this morning bright and early Nate and I took Bruno up to this country club a couple of miles away that has a big ole golf course where I've gone sledding and where our friends snowshoe with their dog.
Ohh, what a way to start a day! The snow was so fresh and deep and perfect! It was our first outdoor adventure with Bruno, and the husky in him (he is TOO a husky Nate!) really showed as he romped around in the snow. It was so fun!
YAY WINTER!!! And to add to my winter joy, the ice is primed and we have our first broomball practice on Sunday. This is the Grim Sweeper's year, I feel it.
Similar Posts:
2 Responses to "Winter Wonderland"
Anonymous Says:
December 15th, 2005 at 4:41 pm

You go Girl

Rick Says:
December 16th, 2005 at 5:42 pm

We are so excited for you to be here and for all of us to go snowshoeing. I heard there is good snow up in the mountains, so it should be great fun!