Posted by Karen in
Bruno
,
Holidays/Birthdays/Etc
.
Wednesday, November 16th, 2005 at 11:35 am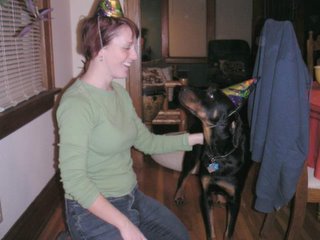 Yesterday was Bruno's 1st birthday. He had a party. We got him a doggy birthday cake from the craziest store in the world, Lulu & Luigi. It was like wheat wafers
and yogurt or something. Here's a picture. He and his friend Casey split it, and it sort of ended up all over our basement, but what to do, a dog only turns 1 once! Casey's mom and dad, Sonja and Greg, gave Bruno a squeeky ball and a doggy energy bar for when we take him hiking or something like that. Nicole and Gretchen brought him a bacon and cheese biscuit and an awesome tug rope with a bone attached to it. There was also people cake – I'll try to post a picture of that soon – it said Happy Birthday Bruno and had candy bugs and worms on it, because Bruno likes to eat bugs and worms. hee hee. All the peo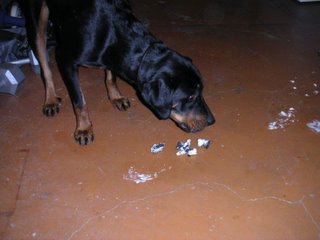 ple friends in attendance also got to sample some of Nate's latest brew, Bruno's Porter. mmmmm. And of course, there was much admiration for our awesome new skylight and recessed light in the kitchen. Bruno also got another present in the form of the first snow of the season! We were wondering how he would react to cold and snow, and it seems that he is a big fan. Last night and this morning on his walk he was bounding around, playing in the snow and flying around on the ice, happy as could be. Yay! And we may not ever have to shovel our deck or back walk, because he spent quite some time eating the snow off of it. Best. dog. ever.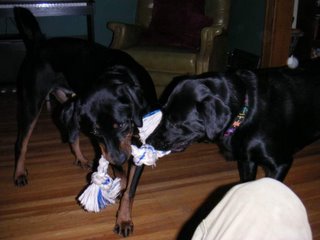 Similar Posts:
2 Responses to "Bruno's 1st Birthday"
M&R Says:
November 16th, 2005 at 1:00 pm

Who would have guessed that Bruno would be your new snow removal system!

Anonymous Says:
November 17th, 2005 at 8:57 am

Now all you have to do is train him to do the same to the front walk and sidewalk and you won't ever have to get a shovel or snow blower.