Posted by Karen in
Family
,
Work
.
Thursday, September 28th, 2006 at 4:40 pm
The Pinolera has officially moved to Minneapolis! HURRAY!!! I lined her up with a temporary job where I work, so she was able to start making some money almost as soon as she got here. The great news for her is that she then got the very first job she applied for, which she will be starting on Monday. The sad news for me is that work will no longer be anywhere near as fun for me without her.
So in celebration of the fun we've had working together over the past couple of weeks, here are some photos of the Pinolera in action, and the last few weeks we've spent as coworkers.
We've spent most of our time planting plugs. The first picture is of Sierra using an auger to dig holes for the plugs. She used tons of hand tools during her job this summer, but we use tons of power tools, so that was a little adjustment. She became quite a ma
ster at changing the blades on the brush saw, and even managed to break a brush saw in her short time working here! (Ok, fine, she just happened to be the one using it when it broke.)
I had a little run-in with a wasp nest a few weeks ago, where I stepped on it while herbiciding and a wasp went up my suit and stung me in the thigh. When I opened up my suit it flew out, stung me in the nose and then kept dive-bombing me! Another one joined in and it got a little scary, but I just kept running and eventually they went away. I had a big ol' bruise on
my thigh from the sting. Well last week Sierra stepped on a bee or wasp nest and one stung her on the stomach! She got the hugest big swollen thing that hurt and then itched for days. Ewww.
We've unfortunately had lots of cold, rainy days lately, but on the nice ones we find a spot to have lunch outside – it won't be much longer that we will be able to do this so we gotta soak up all the sunshine we can!
We had an extra adventure on her last day when Kevin, our crew leader (the one in the brown sweatshirt) got our truck stuck in the mud. It took us an extra hour to get it out. We couldn't get it out going forward, so Kevin decided to try going backwards. Fir
st we had to unhitch the trailer, swing it around, and then pull it out of the way with the Kubota. Luckily, the going in reverse plan worked. Somehow no one fell in the mud, which would have made a great picture.
Sierra looooved driving the Kubota RTV, as do I. This is what we've been using to haul plants around to the different zones we plant them in, as well as tools, and people.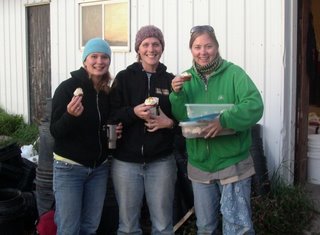 Another girl started working there while I was off galavanting around the tall grass prairies, Katie. She's awesome. She is also looking for other jobs, so I may lose her soon too and once again be the only girl. Sad. It was her birthday on Monday so Sierra and I made her cupcakes. Mmmm, cupcakes. I'm super happy for Sierra getting her new job, and so excited for her as she starts this new chapter in her life. But my job is just not going to be the same without her. It's been so fun to be able to share this with her, and to have someone else get to kn
ow my coworkers and boss, and really understand what I do. I've got some great memories now. It's kind of funny to think that next week she will be doing something so completely different and in such a completely different environment. She'll be inside for one thing, and most likely won't have dirt stuck under her fingernails and burs on her clothes!