Posted by Karen in
Broomball
.
Sunday, February 26th, 2006 at 9:29 pm
This weekend Coach Kastler and sidekick Mad-dog organized a little Grim Sweepers retreat at his family's cabin near Webster, WI. Nate and I weren't able to make it up there until late Saturday night, but when we finally arrived at almost midnight, we found the majority of the Sweepers – where else? Out on the ice of course! Peter had cleared snow from the ice on the lake to make a nice sized rink for us to play on, and they were out there with tiki torches, playing a modified game of broomball they were calling "Swarm", which sounded like it basically amounted to "everyone attack the guy with the ball". Nate and I joined in the action, and I gave Nate this:
Well, actually only the top one. Wendy was responsible for the bottom one.
After one of the worst nights of sleep in my life because of a certain overstimulated puppy, and a hearty breakfast cooked by Chef Pedro, Nate and I headed out to the ice on our skates for our version of the Winter Olympics: ice dancing and pairs skating. It was truly inspiring. While we were perfecting triple toe loops, spin sequences, and lifts, some others cross country skied, snowshoed, and hiked. Our little dog-friend/canine-devil did very well with his first off-leash experience. He played with the other dogs, accompanied friends on trips around and across the lake, and overall got completely tuckered out. He's been passed out for like the past 5 hours.
And then of course, there was more broomball. We finished with Peter's new version of broomball, Zombie, where one person walks around like a zombie, and touches other people to turn them into zombies, who then do the same. They can be turned back either by a teammate hitting them with the ball, or by a goal being scored. It was awwwwwesome.
And so another Grim Sweepers season draws to a close, and what a wonderful way to go out. And now we're sad. It is such a joy to spend time with each and every one of our teammates, and yet some of them we barely see during the rest of the year. Broomball is the glue that maintains those friendships. It's also our reason for being insanely excited about freezing temperatures, and our means of fending off seasonal depression. Granted, there are a few things I won't exactly miss: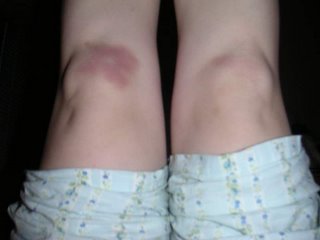 And I did just this week get quite the urge to trade in the SmartWool socks for some flip flops. But I once again feel like the season went by way too fast, and I can't help but wish we had more games, more practices, and more times like these: