Posted by Karen in
Holidays/Birthdays/Etc
.
Tuesday, February 14th, 2006 at 12:06 pm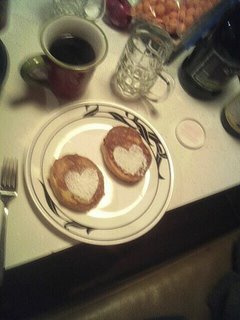 What's that you ask? Why, it's french toast stuffed with cheese, veggie ham, sausage and bacon. My favorite breakfast in the whole world. But what really seals the deal on this Valentine's Day breakfast are the powdered sugar hearts on top. I once told Nate that rather than a bouquet of flowers from the grocery store for Valentine's Day, I'd prefer he spend 5 minutes doing something easy but sweet. He's a creative guy, I knew he had it in him. And ohhhh, how he nailed it this year. Powdered sugar hearts just made my whole day. I'm all a-flutter.
Similar Posts:
One Response to "powdered sugar love"
m Says:
February 14th, 2006 at 8:46 pm

Aww, so sweet. Happy Valentine's Day!