Posted by Nate in
Landscaping
.
Sunday, September 24th, 2006 at 6:19 pm
It's been a while… And we've been, of course, super busy. Today was the first sunny day all week and it was so nice I ditched the basement and hit some outdoor projects. Not really high on the list but something needing doing was dealing with the compost bin… It had been sort of full when we bought the house, but not really maintained at all, and there was some charcoal and various bits of non-compostible crap in it. Lacking the time last year we just started throwing scraps on top of what was there and turning it occasionally.
Finally it was almost 3/4 full and today I decided to get it cleaned up. I pulled a trash bin out of the garage and shovelled most of the yet-to-be-compost scraps into it. It was more than I planned on, nearly full… Then I grabbed some bits of lumber laying around and some 1/4 screen we had and built a makeshift sifting bin. It ended up being way more labor-intensive than I figured – I'd load up the bin and go shake it all around the lawn, then bring it back to another tub and work the remaining clumps by hand for a while, finally dumping the sticks and roots and debris that wouldn't go through.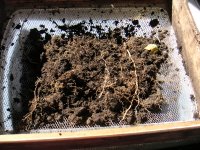 I ended up with two tubs pretty full of fantastic compost and nice small layer on most of the lawn. Sweet. Maybe a little fertilizer on there before winter and we should have a dog-proof lawn next spring… :) The rest of the compost will go on the garden and flower beds before winter, and the good news of the big push today is the compost bin is now reset back to our own scraps – everything we started with is out. Should be easier to keep the nearby plants from sending roots up into it…
Similar Posts:
One Response to "Compost maintenance"
nator Says:
September 25th, 2006 at 8:09 am

Actually, reading up more on composting makes me realize our bin is in the exact wrong location in our yard – it should be sunny and away from the tree, not in the darkest corner right next to it… Hmm. May try to talk to K about moving it out by the garden – with that much sun it may even keep working all winter.