Posted by Karen in
Broomball
,
Bruno
,
Family
,
Friends
,
Weather
.
Sunday, March 18th, 2007 at 7:10 pm
This is very belated, but still needs to be written about. I'm a fan of winter. I'm a big fan of spring, summer, and fall too, but it seems like a lot of people either whine all winter long about the cold and the snow, or just kind of quietly suffer through it. Not me. I love it. There are so many fun things you can only do during winter! Broomball for example, snowshoeing, ice skating, sledding, skiing, snowball fights…
So imagine my surprise when this year I found myself hating winter! Before we left for Ghana and Scotland it was too warm so there was no ice for us to play broomball on – major bummer. Then when we got back it was like a million below zero and we had to just jump in to broomball games, no fun practices with our awesome team to get us all excited. And I had a cold. So I kind of went to the games and froze my butt off and was miserable and whiny the whole time. But then we had a great fun weekend session of play-till-you-can-physically-play-no-more broomball, and things started looking up.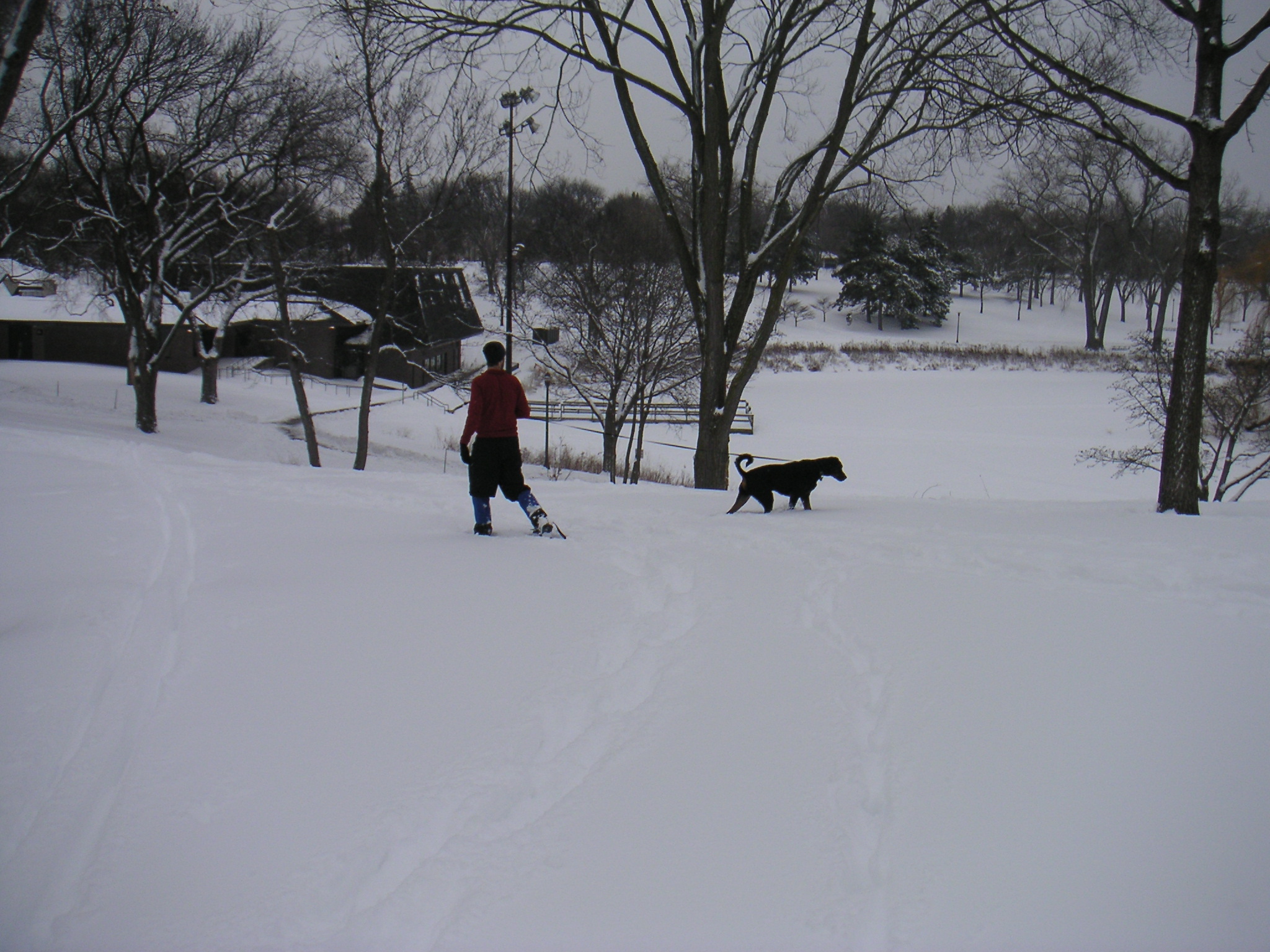 And then it snowed. Heaps and heaps of snow! FINALLY! Nate and I took Bruno snowshoeing at Powderhorn Park and the little buddy got pretty tuckered out. He had been getting pretty short walks when it was way below zero, so he may not have been in primo shape. And then it snowed heaps and heaps more just a few days later! So I got to go snowshoeing two more days that weekend! And it was the most perfect weather, all sunshine!

I took Nicole with me on the first day, her first time snowshoeing, awww. We went to explore some trails along the Mississippi where I will be spending quite a bit of time this spring and summer. There's a small but wonderful oak savanna there that volunteers have worked really hard to restore and maintain, and even in the winter it was a sight to see. I took this totally ridiculous picture of us. I'm such a friggin genius that I thought I was wisely blocking the sun from my eyes.

Sierra went with me the next day, and we went to Fort Snelling State Park. We took Bruno with us because I realized from the previous day that the trails would be packed down enough for him. There are so many people here who love to play in the snow and it's amazing how fast they get out in it! It can make it hard to find some nice deep fresh stuff, which is what I prefer to snowshoe in, but it's so great to know so many people are getting out there, getting exercise, enjoying the snow, the sun, the fresh air. We went on a long hike around Pike Island, and there were so many people out walking, skiing, snowshoeing, so many dogs, so many deer! Bruno was completely overstimulated.

So I completely fell in love with winter again, and just in the nick of time. It's all melting now, and I would have been worried if I hadn't enjoyed any of the season. But now I am getting excited about shedding some layers, digging in the dirt, planting things, and getting to actually do some of the events I've been planning at work!
Similar Posts:
2 Responses to "I heart winter (again)."
Mary Jo Says:
March 19th, 2007 at 9:15 pm

Well you really did shade your eyes though–and who made the snow bunny on there? Poor Bruno on that last picture looks like he's trying to figure out if he can make it to the top of the shed there.
Glad to see you regained your love for winter, since that has always been such a big part of you.

troy Says:
March 26th, 2007 at 1:44 am

Well… I am jellous!