Posted by Karen in
Day to Day
.
Tuesday, January 10th, 2006 at 1:58 pm
This morning when I stepped outside to take Bruno for his morning walk, I immediately noticed that the park and everything in front of me was filled with smoke. I could tell that it was coming from the south, and my first thought was that the park building was on fire. We started off in that direction, and right away I saw fire trucks at the end of the next block. The four-plex apartment building on the corner was ablaze! The entire roof and upper story was engulfed in flames and they were shooting water at it from several directions. There were emergency vehicles, firefighters, news reporters, and bystanders filling the streets. We kept walking, a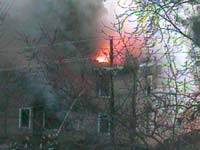 nd about a half hour later when we passed by again on our way home, the fire didn't look any closer to being put out. Apparently the fire started around 7am, and it was probably about 8:30 or 9 when Bruno and I got done with our walk. Here is a local news story describing the fire. Apparently the smoke could be seen for miles. I just returned from lunch with Nate, Cody and a couple of the Chicago boys who were in town, and this time when I passed by all but one smaller emergency vehicle were gone and the fire appeared to be out. But now what? I can't stop thinking about those families and how their lives just changed so drastically in the blink of an eye. All of their possessions gone, the roof over their heads literally gone. Yo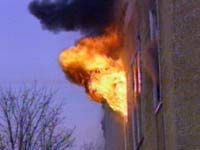 u see or read stories in the news about house fires from time to time, but it's funny how much more you think about it when it happens so close to your own home.
Similar Posts:
One Response to "Local fire"
m Says:
January 10th, 2006 at 5:00 pm

You're so right about it seeming so much more real when it's so close to home. At least it sounded like there was no loss of life. Take care, everyone!