Posted by Nate in
Family
,
Home Improvements
.
Wednesday, May 10th, 2006 at 8:54 pm
Once again – work for me and Karen, and the parents (plus Sierra) at home. Rick got up early to go birdwatching at Murphy-Hanrehan park, a decent drive south-west of the cities – and he saw a new bird! Good news! (He's got so many now, new species are harder and harder to come by…)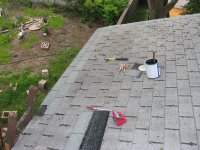 Of course that wasn't a busy enough day for him, so he took advantage of a mostly-dry day and tackled the terribly leaky garage roof. I'd noticed all winter that whenever we had a melting spell that somehow water was coming in on the South roof edge and soaking into the plywood wall! No good at all, and it was on my short list of projects to hit this summer… But, unbelievably, I hadn't even been up on the roof to look at it yet. Earlier in the week Rick scaled a rickety lumber stack and fence to take a look and informed me that the shingles were totally shot right along the wall line. I'm guessing a combination of south-facing sunshine and ice dams for too many winters, plus some pooling right at the edge there.
Either way, time to replace them, and we just happened to have a stack of shingles left over from the previous owner and a bunch of roofing nails from an earlier roof project. He told me afterwards that he used almost a whole gallon of roofing cement to patch everything up, so that thing's going to outlast the whole garage! No more leaking!
Meanwhile, Marianne and Sierra hit the town for some shopping, errands, and general running around. After work everyone rendezvoused at the Herkimer for happy hour and Smarty Party planning. Perfect.
Similar Posts:
One Response to "Parents projects part 3"
Rick Says:
May 17th, 2006 at 9:30 pm

Ace Roofing Company here reporting from the fort. Hope the repair job is holding up. It's under warranty for another day or two! You're a busy blogger tonight!