Posted by Karen in
Day to Day
,
Friends
,
Neighborhood
.
Friday, March 3rd, 2006 at 3:39 pm
Nate and I recently invited our friends Peter and Madeline to become part of potato chip history with us. Last summer when we were at the Uptown Art Fair we visited the Kettle Chips booth, where we were given a free bag of chips and got to vote on what we think their new "happy hour" inspired chip flavor should be. If you are not familiar with Kettle Chips, you should be. They are an awesome company that converts 100% of the waste vegetable oil from their production into biodiesel, they have an enormous rooftop solar energy array, restored wetlands around their facility, and oh, did I mention that they have Cheddar Beer flavored chips? And Spicy Thai? Roasted Red Pepper with Goat Cheese?!? YUMMM!!
Anyway, at the art fair, I of course submitted a suggestion for a bloody mary-inspired chip flavor, of course. The good people at Kettle Chips either took the five most popular suggestions or the five they liked the best (not sure) and made a limited amount of each. They then assembled 500 People's Choice Happy Hour Party Packs, containing one 5-oz bag of each flavor, a tasting guide and ballots. Needless to say, I simply had to have one. And so approximately two weeks later Nate and I journeyed to Peter and Madeline's house in negative 20 something temperatures with our box o' chip fun. On the agenda for the evening? Watching Winter Olympics (did you SEE snowboard cross?!? So. cool.), experiencing the glory and wonder that is the boardgame the Settlers of Catan, and being part of potato chip history. Worthy of risking frostbite and car engine failure? We obviously think so.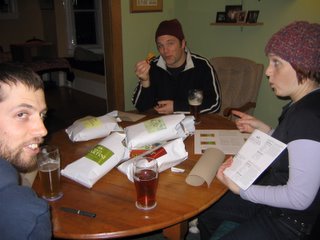 Some of us (Madeline) followed directions better than others (Peter), but in the end, we each judged the following very exciting flavors:
Spicy Mary
Dirty Martini
Tuscan Three Cheese
Creamy Caesar
Buffalo Bleu Cheese
We each filled out a ballot and submitted our votes online. Here are the current stats:
Total voters: 4089
Buffalo Bleu Cheese: 3.37
Dirty Martini: 2.61
Tuscan Three Cheese: 3.78
Spicy Mary: 3.28
Creamy Caesar: 3.62
Unfortunately, it's not looking good for my top choice, Dirty Martini. Buffalo Bleu was a close second for me though, and it still has a chance. I think Nate chose Tuscan Three Cheese. I can't remember how Peter and Madeline voted, so they will just have to comment to let us know.
And by the way, voting goes through the end of March, so you too can still get in on the history-making.
Similar Posts:
6 Responses to "Making Potato Chip History"