Posted by Karen in
Broomball
.
Friday, January 27th, 2006 at 3:46 pm
I just realized that we left out one amaaaaazing thing from our game. By far my favorite play ever. Someone popped the ball up, and Scott unexpectedly jumped up and did the most wonderful soccer header, perfectly centering the ball to Peter L., who then smacked it in for a goal. Definitely the first assist of its kind for the Grim Sweepers. I'm glad this guy's on our team. For anyone who doesn't know Scott, he's the ninja-looking fellow in this picture, duh, like he could be anyone else.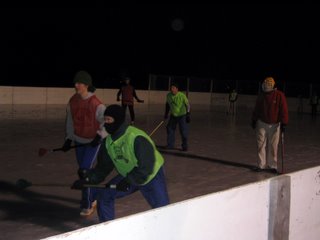 Similar Posts:
One Response to "Broomball Ninja"
Peter Says:
January 27th, 2006 at 10:11 pm

yes, with the combination of the header assist and half court shot: the game was one for the books. I'd also like to point out one particular play that made them fold just as much as any score: Karen's seemingly uneventful coming out of the net and swatting a ball that was bounced up right in front of the goal about six feet in the air: that was their score to be had, but you shut 'em down with one heads up play.