Posted by Karen in
Bruno
,
Friends
.
Tuesday, November 8th, 2005 at 11:41 am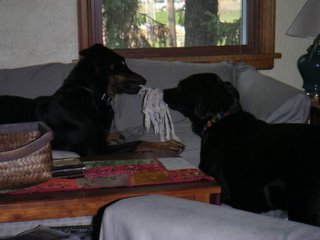 Bruno had his first puppy play date since we've had him on Sunday. My new friend Sonja is a grad student in the same program as me and we share an office. She and her fiance Greg have a one and a half year-old black lab, Casey, and we talk about our dogs constantly. They've had Casey since he was a little bitty puppy, so she's been a great resource for me to talk about stuff that's going on with Bruno and get advice and ideas. So on Sunday Nate and I took Bruno over to their house to meet Casey. They were instant best friends! Casey is actually about 80 pounds, about 15 more than Bruno, b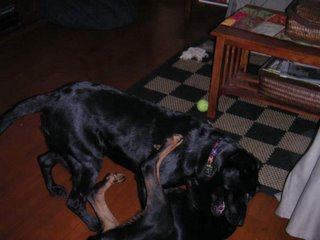 ut they were a perfect match. We were there 2 or 3 hours and they never stopped! They tore around the house after each other, wrestling, playing keep-away, tug-of-war. It was the cutest thing in the world. Bruno gets to be around lots of other dogs at doggy school and occasionally meet other dogs on his walks, but he hasn't been able to just play, play, play. And Casey knows lots of other dogs, but none that are of comparable size so he always has to play a little less hard. So this was a wonderful thing for both of them. And it turns out that Sonja and Greg are fellow good beer enthusiasts, so Nate and I may have made new best friends as well!
Similar Posts:
3 Responses to "Puppy Play Date"
Anonymous Says:
November 8th, 2005 at 1:16 pm

These two could be twins–they're sure having a good time.

M&R Says:
November 9th, 2005 at 9:29 am

What fun! It's awesome to see Bruno so playful. We're excited for him to meet Regan. It will be a crazy house!

spacemanpete Says:
November 9th, 2005 at 7:01 pm

cheater!