Posted by Nate in
Day to Day
.
Wednesday, March 7th, 2007 at 1:03 pm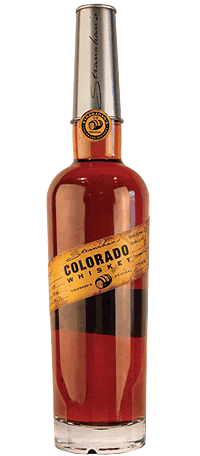 Feast your eyes, my friends, on a bottle of Stranahan's Colorado Whiskey. "What?!" you may say, "how does that work?" Well, the Denver Daily News has a good writeup about the whiskey and the process that makes it unique – basically they use 4 kinds of barley grown in the "Northern Rockies" and ferment their wash at the Flying Dog Brewery. (Sort of the reverse process for the amazing 1488 ale we had in Scotland – they use the wash from a distillery to make beer) The wash is put in a holding tank at Stranahan's and they distill on average three barrels per week in their unique combination pot / still column. The whiskey is then aged for a minimum of two years (CO (or US?) law says it can't leave the distillery until it's 2 years old) in new charred American white oak barrels.
So basically we're talking about an all-malt American whiskey made just an hour or two from my hometown using delicious Rocky Mountain water and a wash from a totally kick-ass brewery! It's different from other American whiskeys in that it's all-malt, no corn or rye, and different from Scotch in that there's no peat smoke. I'm intrigued. The Mmm, Whisk(e)y blog has some tasting notes that make me very, very excited to try this.
(Luckily I immediately chatted my mom in Fort Collins and not-so-subtly hinted this would make a fantastic birthday present. I think someone's going to be very happy when his 30th rolls around… :)
Similar Posts:
2 Responses to "Stranahan's COLORADO Whiskey"
Rick Says:
March 7th, 2007 at 4:38 pm

How did you find out about this – you live in Minnesota! Well, Mr. Upcoming Birthday Boy, you just better be good and hope for the best on your 30th. What if they only have one bottle left ….

Laurel Says:
March 11th, 2007 at 11:28 am

Mmm, sounds pretty good! So you've subtly dropped clues that you'd like that for your birthday, but unless you want a bunch of bottles (probably not such a bad thing!) do you have any other hints of birthday presents you're hoping for?