Posted by Nate in
Garden
,
Landscaping
.
Saturday, April 22nd, 2006 at 8:52 pm
Ok, so after Karen's enthusiastic but detail-free post, I've been tasked with posting a few more pictures and notes. Here goes: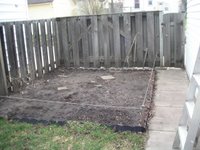 First, some "before" pictures: on the left, the buried path, and on the right the garden as it existed a week ago.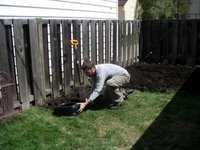 First thing we did was dig out a new section of garden for raspberries and rhubarb. I'm putting in some edging left, and then tilling the surface – mixing compost and some new dirt.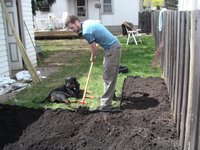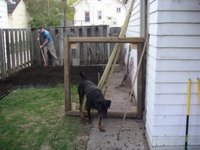 Helpy doing his thing with the tomato bed frame, and me putting in the stakes for the pumpkin and cucumber trellis.
Karen making out with one of the cool little sun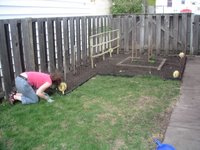 faces guarding the garden, and the tomatoes in the dirt with their stakes.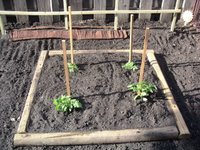 The trellis at left, we're hoping it will support the cucumbers and pumpkins. Supposedly if we put the pumpkins in pantyhose legs and tie them to the trellis they'll stay up and grow big without taking too much room in the garden. Finally, the path. While this is totally a temporary measure – we're going to replace the whole thing with a sweet stone path done properly – it's one thousand times better than the overgrown mess it was a week ago.
Ta da! A big long workday for both of us, but it was wonderful – working outside in the sun in our yard with our dog… (and beer on tap in the basement.) Ahhhh…
(oh yeah, we planted: raspberries, rhubarb, a hot chili pepper, basil, dill, cilantro, mint, rosemary, 4 kinds of tomatoes, a cinderella pumpkin, and some cucumbers. Whoa.)