Posted by Karen in
Friends
.
Saturday, July 15th, 2006 at 11:26 am
Pedro and Mad-dog had a beautiful baby girl, Frances Ray, on July 5th. She was 6 pounds, 13 ounces, and is very advanced. They tell us she can already say helicopter and count to 5. We would expect nothing less. The whole family is healthy and happy and we're so excited for them! I see a bright future as a Grim Sweeper for this little bruiser… just look at her. She's so ready to tackle someone.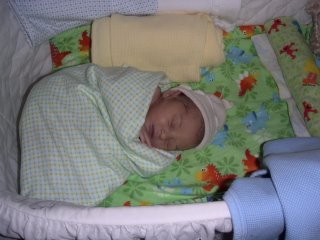 Similar Posts:
2 Responses to "Welcome to the world baby!"
Rick Says:
July 15th, 2006 at 12:33 pm

Hooray for babies – congrats to Peter and Madeline! Our niece Tanya just had a baby boy – Malone, and Kirsten is next. Lots of lovin' and poopie diapers – yep, that's what's next!

MJ Says:
July 16th, 2006 at 4:35 pm

She's adorable–but they could have waited two more days and had her on my birthday instead–I would have been thrilled to share it with her.