Posted by Nate in
Garden
.
Thursday, June 22nd, 2006 at 1:52 pm
[Dear readers: remember when Karen used to post? I do. Those were good days, all right. Good days.]
Our garden is blowing up. Almost overnight our tomatoes have gone from unassuming seedlings to gigantor Audrey II-like monsters. I'm scared to go back there. But they really need some pruning, so if you don't hear from me for a while…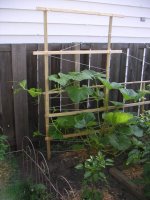 At left is our amazing pumpkin. It's weird, I know I grew up around all these veggies, but I obviously didn't pay attention to how they grew – or how big. I've already extended the trellis, about doubling the height, and since that picture was taken I tied up that vine at left so it's read to start attacking the next level.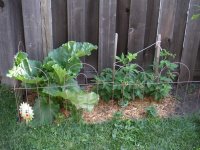 And that's just the main vine, there are several secondary ones lower down. (should I prune those??) On the right is our rhubarb and raspberries, both making huge progress. I just read that we shouldn't harvest any of the rhubarb this year (its first) since it needs all those huge leaves to make energy for building a strong root system. Then next year we can harvest "some", and finally go crazy in the third year. Whoa. Some good raspberries starting too, looks like we'll get some fruit from them.
Next is the dill and cilantro, also doing well. The dill is almost weed-like in its propensity to spread, and the cilantro has recovered from a shaky start where it all got knocked down and bent. Looking forward to chilled carrot dill soup…
I grew so much cilantro hoping to use the coriander seeds to make ultra-fresh Witbier, but now I'm reading that Indian coriander has a nicer flavor and aroma. This one may be a touch "vegetal" or celery-like. Ah well, if I get any coriander it's going in the beer! Finally the cukes (at right) – just today I found the first flower! I didn't check if it was a male or female blossom, but since they're not self-pollinating like our tomatoes I'm thinking we maybe should do it by hand? (I know, dirty…)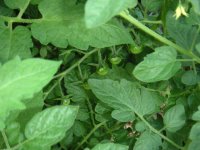 To finish the photo spread, a few fun shots of the tomatoes-in-progress. Cool!
Similar Posts:
4 Responses to "Garden Update"