Posted by Nate in
Home Improvements
.
Monday, January 30th, 2006 at 2:15 pm
The old faucet turned out to be all pretty up-to-date hardware, and the replacement was about as easy as it could have been. The under-sink shutoff valves were tight and needed some coaxing, but actually did the job perfectly. Until I'd looked under the sink in detail, I was worried the hardware might be old enough to not even include shutoff valves… Eek. At left is the "before" shot, you can see the single handle faucet and the black sprayer – apparently just for show, the sprayer's not hooked up. (I know, what?)
Here's the "during" shot. There was a bit of plumber's putty and corrosion residue that had to be cleaned up and scrubbed down, but not too bad. You'll note the nice length on the old water connection pipes – the new faucent had about 2" less, and, of course, the existing flex hoses didn't reach. They were short by one miserable inch. But they were this crappy plastic and the replacements are nice SS braids, so that's good… Extra hardware store trips: 1.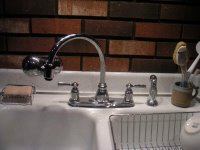 And finally, the "after". Ta da! I'm actually looking seriously at getting an under-the-sink in-line water filter instead of that hanging one. I mean, it's nice to not have to use the filter for everything, but I think aesthetically it will be much nicer to have it out of sight. And it will prevent accidentally sending hot water through the filter…
Also notice the shiny new sprayer! It's hooked up and works great. I didn't even replace the base stand for it, since it was tight and hard to reach, and doesn't look out of place with the new setup. Sweet. I'm still adjusting to the split hot / cold valves, but I definitely like to look and feel of the new setup.
Similar Posts:
3 Responses to "Faucet update"
Rick Says:
January 30th, 2006 at 4:32 pm

Sounds like a pretty smooth job, I am definitely impressed! I like those SS flexible hoses too, they work well. I finally got around to fixing a leaky faucet in our tub. Using your technique, i looked on the Interent and found some great tips and photos. I realized I could turn off the hot water at the hot wat heater, and other than a few parts being kind of tight, it went smoothly. I enjoy being able to fix these kinds of things, and you seem to as well.

m Says:
January 31st, 2006 at 11:01 am

I like the look too, especially the way the new faucet arches up. Seems like it would give you more space to work in the sink. The undersink water filter is a good thought, I'd like to hear more about water filters, and whether I am ignoring obvious reasons to have one ourselves. I like the taste of our water, but that doesn't nesessarily mean we shouldn't filter it.
The hot and cold handles look really nice, in your house in particular. It "fits" somehow.

freddie Says:
January 31st, 2006 at 6:51 pm

Nice work. The difference between the before and after pics is amazing. It's like a completely different sink. Makes me want to change my faucet just to make it look new.