Posted by Nate in
Home Improvements
.
Tuesday, November 22nd, 2005 at 11:39 am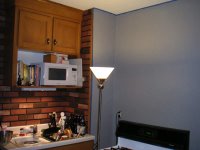 So enough with the geek posts! What's happening to the kitchen?! Well, let me tell you: good things. Very good things. I was sick (still recovering, stupid tickly cough and stubby node) this last weekend, down and out Saturday, but together enough on Sunday to head with Karen to the Home Despot to buckle down and make some serious decisions about paint. And we did – not what we originally planned, but in the same family. (That grayish-blue on the walls is primer)
Why prime? The jury's sort of out on this, since it was a previously painted surface we probably could have gotten away without primer, but I was a bit worried since from what I'd read kitchens can be tricky. Lots of gross buildup on the walls from cooking and general wear and tear can make it hard for paint to stick properly. So I washed the walls and opted for a primer, more specifically a gray primer. Despite a demonstration placard sitting right on the counter, the HD paint guys were sort of out of the loop on gray primer – and I didn't know enough to insist on getting it mixed accurately. It's close enough, though, and definitely helping. The final paint shows up WAY different on the few small spots that got missed with primer – the color over the primer is just awesome, rich and deep and warm.
So what is the color? Well, until I get a second and possibly third coat down, I'm not going to post any pictures, since it will change with each coat. I will say, however, that's it's bold. And looks great!!
One last picture showing the gas hookup to the stove. Nice and big copper loop so we were able to get good clearance from the wall without stressing any pipes.
Similar Posts:
One Response to "Kitchen update"
M&R Says:
November 22nd, 2005 at 3:37 pm

Well, I hope you get those subsequent coats on fast. I am really anxious to see what color you chose!